If you follow me on Twitter then I'm really sorry.
I'm sorry that you've had to endure the constant stream of ranting and raving whilst I try to get to the bottom of where my PSVR actually ended up.
I'm sorry that you've seen the words Amazon and PSVR mentioned so much in general. I promise normal service will resume, but right now I'm extremely salty with the whole situation.
All in all, I wanted to be doing stuff like this and not spending my entire weekend playing a terrible game of hide and seek.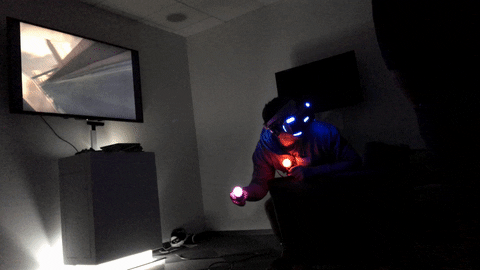 To keep things simple, here's what happened in the form of a wonderful bullet-pointed list:
It's 16th March. PSVR was announced and available to preorder on Amazon. I get stupidly excited and head over and preorder that shit immediately.
A lot of waiting happens and I order the waggley sticks and get all the games installed.
I get a delivery notification on my phone (this never appeared in my email though…) about it turning up, but it's not in the delivery spot.
It's signed for by a colleague.
Said colleague didn't sign for any parcels and didn't receive any either.
I hop onto live chat and get told it will take 48 hours to investigate.
Not only chuffed with the answer, we drop them a phone call to see what's actually gone on. The nice man states it does all look a bit suspicious as the parcel appears to have been signed for at an address 6/7 mins away from my office. We get told to phone back on Sunday.
And this is when a shitty situation gets worse. I call them to find out they hadn't actually done any investigation and they mean 48 working hours. The guy was too nice to be overly mad with and promises that I'll hear back from him in a few hours. He was true to his word (you might need to click on them to see what they actually say…):
They've delivered it to the wrong place and suggested that I pop out and find it. Best bit about this is that it's a building full of flats (I went on a wander this morning to check) and I'm really not up for putting myself in danger/annoying everyone in the building looking for something which is clearly addressed to my work. I can't lie – I replied almost immediately with an irrational hatred for this company and was most likely overly demanding in some respects.
That being said, I'll give this guy his due – he did put another one on order for me after I'd received that, but in true Amazon style that didn't last long.
This might have been my fault, but at no point did I request that this happen. It was 7am when I read this and my reply was something along the likes of 'OH MY GOD ARE YOU ACTUALLY SERIOUS RIGHT NOW'.
I get back on the phone (there's a lot of me contacting them during this mess…). It's 8am. I'm tried. I'm cranky. I'm not in the mood to be messed around any more.
I was messed around. They needed another 48 hours to investigate what happened.
He dodged/ignored questions such as:
'How can you know where my parcel has been delivered if, as you say, no one's got a report from the courier?'
'Why was my additional order cancelled?'
'Why do you allow drivers to willingly hand over £350 bits of equipment without checking who it's going to?'
'Is it common practice for your drivers to take names from other parcels and hand them over to people instead of asking who they are?'
And that's where my story currently sits. I'm out of a £350 voucher (+£120 if you count the games etc. that I have unwrapped and installed) so even if they do refund I can't physically go anywhere else. I have no PSVR or hope that one ever will actually turn up seeing as my replacement hasn't been ordered and even if they do put in another order, it won't arrive until 14th November.
Oh and ny colleague didn't receive her book.
They'll be in touch within 48 hours apparently. Wednesday will be fun…
[Edit: 7:47am Wed 19th Nov]
I speak to someone who has no idea what I'm talking about. After 20 mins of asking to be put through to the Delivery Investigation Team, he finally tells me they conveniently have a fault on their line. They'll get back to me within 24 hours. *Insert rage face here*
Oh, and this has appeared on their website…
[Edit: 13:38pm Wed 19th Nov]
After realising that no one had any intentions of actually phoning me (they confirmed they tend to send emails) or emailing me (yeah they never sent one of those either) I went into one of the phone booths in the office (my glass case of emotion) and called them.
After an hour of he said/she said, the guy on the other end finally realised that perhaps this was a little shit and the penny finally dropped with the whole 'didn't actually deliver it to the right building' thing (I believe they failed to put that down on the case notes that it was delivered to a completely random street). Best bit coming up though – they hadn't actually escalated it with the depot and if the driver was found to have stolen the device, they would never contact me to tell me this. Without that little nugget of info, I can't take to the police. Convenient, eh?
They had me over a barrel – I couldn't take my money else where as it's a giftcard and they flat out refused to buy me one from the marketplace.
Another order has been placed, but (there's always a but) they can't guarantee it would arrive on the 14th because of stock numbers. If only they hadn't randomly cancelled that previous one… I'll give the guy his due – once he finally understood where I was coming from, he tried to upgrade shipping and offered £50 refund.
I gave in to what he offered. Amazon have officially ground me down and their web of red tape/refusal to go out of their way for something they messed up on just wasn't worth the frustration. Back to waiting I guess…